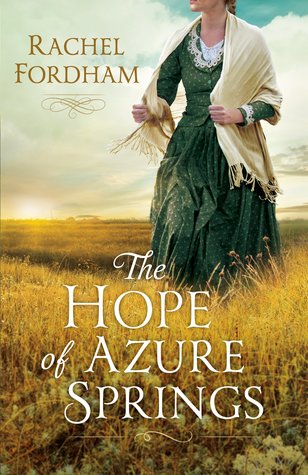 The Hope of Azure Springs is an amazing debut title by author Rachel Fordham that I was pleasantly surprised by. Christian fiction can at times be dry as dust, but this novel surpassed all my expectations! It contained elements of romance, danger, mystery, and small-town charm.
Set in historical Iowa, our plain-Jane heroine is an orphan train sibling who shows remarkable strength and resilience. Of course, her personal experiences have left a mark on her, but she is just absolutely charming. I don't want to elaborate too much because I don't want to spoil the book, predictable as elements of it may be.
Our hero is the town sheriff and of course, depicted as being absolutely swoon-worthy. He has his own personal history to deal with and current obstacles that he has to overcome. He's stoic, handsome, stubborn, and sometimes oblivious, but also good-hearted and courageous.
The depth of the story is in the lesson of beauty being in the eye of the beholder, to acknowledge that attractiveness is more than skin deep, to see beyond a charming face to the heart that lies beneath. The story also beautifully chronicled a tale of loss, self-worth, family, friendship, healing, and hope. I was moved to tears by the eloquence with which certain passages were written. This was a well-paced novel that I did not want to put down (and may have stayed up way too late reading.)
A 4.5-star rating for sure. This is a definite recommended read for anyone who enjoys squeaky clean historical romance. A delightful escape from the grey skies of February.
I was provided with a copy of this publication via NetGalley with thanks to the publisher and/or author. All opinions are my own.
Publisher: Revell Publication Date: July 3, 2018